» Welcome to Ho Chi Minh City (Otherwise Known as Saigon)
» Things to See in Ho Chi Minh City (A-Z): Cholon
» Cao Dai Temple
» Chu Chi Tunnels
» Things to Buy in Ho Chi Minh City: Modern Vietnamese Art
» Things to Eat in Ho Chi Minh City: Restaurant Guide
» Places to Party in Ho Chi Minh City: Bars and Clubs
» Vietnamese Girls
» Places to Stay in Ho Chi Minh City: Saigon Hotels
» Getting There: Ho Chi Minh City Airport
» Further Afield: Dalat
» Hanoi Dining Guide
» Nha Trang and the Vinpearl Resort
» Phu Quoc Island
---
» Costs of Living and Staying in Vietnam
» Buying Real Estate in Vietnam?
» Learning Basic Travel Vietnamese
RECOMMENDED WEBLOGS & WEBSITES
» Familiar Strangers (Food and Heritage in Hanoi)
---
---
Taste of the Hermit Kingdom (A North Korean Restaurant in Hanoi)
I HAVE HEARD THERE IS A NORTH KOREAN RESTAURNT IN HANOI CALLED THE PYONGYANG RESTAURANT (OR IN VIETNAMESE, BÌNH NHƯỠNG QUÁN.) According to a magazine story I read in Le Pub (Ho Chi Minh City), it is at 28 Nguyen Thi Dinh Street, a little bit hard to find, and surrounded by other Korean restaurants. From Sydney to Saigon, South Korean restaurants are dime a dozen these days... North Korean restaurants are a rarity in comparison, and I would love to visit Bình Nhưỡng Quán after soaking up some of the mausoluems and other socialist monuments in Hanoi. Hanoi seems the perfect place to do it. True to style, the staff at this official restaurant are said to be impatient and rude, at least according to the magazine I read in Le Pub. Perhaps this magazine visited on a bad day, because other reports claim Pyongyang puts on a splendid show, complete with dancing girls and the last remnants of classic Communist choreography you will see this side of the Cold War. While it may be expensive, the food is also reputedly gourmet.

As it turns out, Bình Nhưỡng Quán is just one of a chain operated by the North Vietnamese government all over Asia. According to Slate, there are dozens of such restaurants stretching from northern China to Thailand. The Pyongyang chain helps funnel much needed foreign exchange into the coffers of the Hermit Kingdom, and possibly to launder money raised from other more illegal enterprises. They offer something of a propaganda service, but that is perhaps just a cover for their real reason for being. Interestingly, many of the diners are South Korean tourists; the waitresses and dancers are young, loyal, carefully vetted hospitality students. Slate's Sebastian Strangio dropped in at the Pyongyang restaurant in Phnom Penh, Cambodia, and wrote: "Visitors to the restaurant are ushered into an air-conditioned, flood-lit hall filled with dozens of glass-topped tables. Unlike North Korea proper, which is wracked by economic sanctions and constant famines, the food here is fresh and abundant. The menu features specialties such as Pyongyang cold noodle (served encrusted with ice), barbecued cuttlefish, stringy dangogi (dog meat) soup, and countless variations on the kimchi theme, all served with glutinous white rice. Also available for sale are a series of North Korean products, including ginseng wine and some nameless bear 'product' promised to increase sexual virility. All carry hefty price tags in U.S. dollars, since the Cambodian riel is not convertible outside the country."

At Pyongyang in Hanoi (this place also goes by the name Pyongyang-Hanoi Friendship Restaurant) dishes include roast chicken (ga nuong) for US$7.50, fried hog meat (heo xao cay) for US$6.50, fried crab (cua chien don) for US$8, roast beef (phil le nuong) for US$8,

The phone number of Pyongyang is 04 6281 8302.
There are branches of Pyongyang in Siem Reap, Vientiane, Bangkok, Pattaya, Jakarta and Ho Chi Minh City.
Prices range from 150,000 to 300,000 Dong.
Hanoi Remembered (A Welcome Relief from the Cold Rain)
IT'S BEEN A DAMP COLD WINTER DAY HERE IN TOKYO, THE COLD OF THE REFRESHING VAREITY, THE KIND OF COLD WHICH WAKES YOU UP AND REMINDS YOU THAT YOU ARE ALIVE, AND THAT LIFE IS GOOD. For some reason, perhaps it was the darkness of my flat with the globes nearly all blown and the rain pitter pattering outside,my first thought upon stepping outside was how much this reminded me of Hanoi. It seems like a lifetime ago when I was there with Nga, arriving by that canal in the pouring rain, after a hard night bouncing up the highways of north Vietnam in our bed bus. Actually I had just gotten the knack of sleeping in those things after 3 nights on the road (non consecutively),and I would have been happy to have spent a few extra hours rolling, all the way to the Chinese border and beyond. But that was not on our itenerary. We were booked into a dark dusty hotel in the Old City. The street we were on specialised in mattresses and bedding. There were plenty of mattresses from Korea which I never suspected was a leader in mattress technology. We went up to our room to find the hot water didn't work. It was a cold day.
b e s t + r e s t a u r a n t s
BANH TRANG HAS BEEN CALLED THE VIETNAMESE EQUIVALENT OF RAVIOLI SKINS": IT IS THE THIN TRANSLUCENT RICE PAPER THEY WRAP VIETNAMESE SPRING ROLLS IN. Anh Tuyet: 22 + 25 Ma May, Hoan Kiem, Ha Noi. Phone: (84-4) 8 258 705-9 165 302. Fax: (84-4) 9 263 589. Email: anhtuyet252001@yahoo.com. Website: website here.
Jamming Lady from the UK says: "If you have watched Anthony Bourdain's No Reservations TV series, you should have seen him having roast chicken in Hanoi. I don't quite recall what exactly was featured but we have already decided to visit the restaurant, Anh Tuyet. Of course, we don't know what the name means.
"When we reached the restaurant, it looked closed. We had to knock on the door to see if anybody's there. It was like a little kampong built on the 2nd level. A narrow staircase led us to the door of the restaurant. We were reluctant to walk away with disappointment so we knocked a few more times. Abracadabra! A lady walked to our rescue from inside and opened the door for us. She told us that this side of the restaurant was no longer operating, the restaurant is now located on the opposite side of the road. "
Highway 4 Restaurants: 31 Xuan Dieu Street, Tay No, Ha Noi (main restaurant). Phone: Tel (84 4) 3715 0577. Website: website here.
This chain (there are four restaurants around Ha Noi) seems to be a Vietnamese version of a Japanese izakaya: a hearty, jovial drinking house. There are exotic foods galore, and plenty of exotic drinks to be guzzled down with it (for example, the in house Son Tinh liquor.) Starters include green mango salad with salted jellyfish (65,000 Dong), while the lively tapas section bristles with ingredients like roasted locusts and crickets, cured buffalo meat and chicken cartilage. Among the more substantial dishes are ostrich fillets (95,000 Dong), pigeon roasted with salt (99,000 Dong) and tofu fried with salted chicken eggs (55,000 Dong). One of the specialties of the place is the aforementioned Son Tinh liquor, which is distilled from unhusked sticky rice and traditional yeast in Le Chi-Gia Lam district in the Red River delta. The liquors boast names like Sanh Nieu (Sex Machine), Fan Xi Pan (Mountain Forest) and Voon Trai Chin (Fruit Basket). If you are a bia drinker like me, bottles of Hanoi and Saigon Export beer go for 28,000 Dong.
Quan An Ngon Street Restaurant: 18 Phan Boi Chau, Hoan Kiem, Hanoi (between Ly Thuong Kiet and Hai Ba Trung, one block East of Le Duan).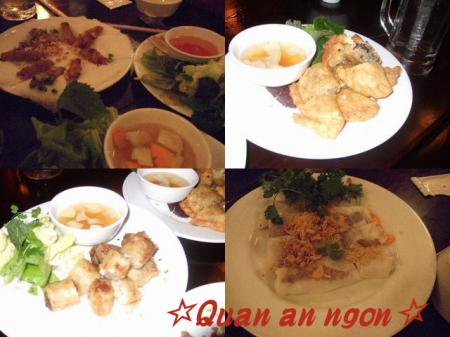 Nga managed to drag us here across miles of uneven pavements one cloudy lateafternoon in August/September 2008. My Dad hated being dragged, but the food here was well worth it. Even if Aunty Heather had to return all the beers to the kitchen for being too warm. For a review of Quan An Ngon from Postcards from Asia, click here.
b i a + h o i
BIA HOI IS THE CHEAPEST BEER IN THE WORLD. At streetside restaurants like 22 Hang Tre, it is possible to get a large glass of bia hoi for just 4000 Dong. Dang that's cheap! For an English language guide showing where you can find bia hoi stands around Ha Noi, click here.
. According to a recent report, South Africa's SABMiller, the second largest brewery company in the world by volume, and Vinamilk have opened a brewery in Binh Duong Province.
"All its products are distributed through Vinamilk's network.
c o f f e e + s h o p s
BANH TRANG HAS BEEN CALLED THE VIETNAMESE EQUIVALENT OF RAVIOLI SKINS": IT IS THE THIN TRANSLUCENT RICE PAPER THEY WRAP VIETNAMESE SPRING ROLLS IN. Puku: 16-18 Tong Duy Tan, Hoàn Kiem. Phone: (84-4) 3938 1745.
Australian food blogger he needs food visited this cafe in late 2012 and remarked: "The name of this place alone attracted me to it. Puku. A word that made it into my vernacular not long after meeting my Kiwi partner. What's a puku? If you look down and can't see your belt buckle, well, you just may have one. Puku is a place that attracts expats and out-of-towners. A French colonial set-up featuring an international menu, free erratic wifi and Lavazza coffee. Take a look ... they even do a flat white. The milk may have come from a tetra pak but it was actually ok when the maker did their thing."
According to the BBC: "Dog is a popular dish in the country, where it is eaten for its protein and also for good luck.
"It is particularly popular in the urban areas of the north where increasing incomes have sparked a search for new and more exotic recipes.
"At a busy restaurant in Hanoi, a woman weighs and chops up small puppies for her customers.
"There are about seven dishes featuring dog meat, and they often include the head, feet and internal organs.
"Dog meat has a strong smell and taste. It is heavily spiced and usually served with alcohol."
Have you ever eaten dog meat (or downed seahorse wine, for that matter?) How was it? If you are interested in having your experiences (or insults) published online on this blog, send me an email to bunyarra@hotmail.com. One Japanese reader, Ken, had this experience to report: "I was in Man-Gui, a small tiny village nearby Sino-Russo-Line, to taste dog in hot-pot, which was ok, not special good, just fine. How did you eat? Teriyaki or Hot-dog???" Ken runs a hotel in Tokyo and if you want to stay there, click here.
Lotteria in Vietnam (A Japanese Success Story)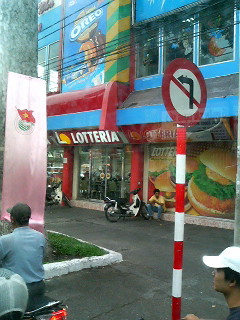 WAY BACK IN 2005 ONE JAPANESE GUY POSTED ON HIS BLOG WORDS TO THIS EFFECT: "BETONAMU NI WA, MAKUDONARUDO GA NAI KEDO, LOTTERIA GA ARU!" ("IN VIETNAM THERE IS NO MCDONALD'S -- HOWEVER, THERE IS LOTTERIA!") It is a strange quirk of history and fate that if you visit Vietnam today, the only chain place you will find selling western style hamburgers will be not McDonalds or Burger King or Fat Burgers or the Big Kahoona Burger or those million other US exports, but Lotteria Cafe (origin Japan.) For complete Lotteria in Vietnam story, click here.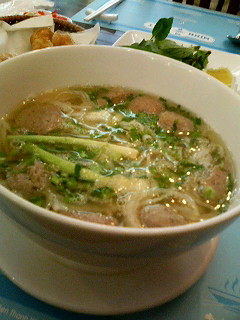 Today I stopped for lunch at the Dai Phat Phở restaurant near the New World Hotel (275 Le Thanh Ton St, phone 08 829 7292.) As you would expect, the specialities here included pho: specifically Hu Tieu Bo Vien, Hu Tieu Nam Vang and Cac Mon An Hoa Thuan Tuy. I ordered the Bo Vien meatball bowl which came with an array of leafy vegetables, garlic and chillies. I made the mistake of eating one too many of those chillies and got a right sting in the mouth for my troubles. But that is par for the course when dining in Asia! The remarkable thing about Dai Phat, however, was my great trouble in paying the bill there -- an experience which was soon to be repeated at various other Vietnamese restaurants and bars and cafes. It is almost as if the waiters and waitresses are programmed not to want to take your money. I put up my hand, I tried to wave the waiter over, all to no avail. I put on my backpack, stood up, but the waitstaff continued to ignore me. Eventually I decided that if I started walking for the door, that might shock the staff into action. As I crossed the room they barely noticed or acknowledged me, even though I hadn't paid for the wonderful meatball soup they had dished up for me. As I reached the door one of the waiters smiled and said: "Goodbye, sir." They didn't even know that I hadn't paid! I paused on the threshold, thinking: I could get away with not paying. I could scam this. But since the meal would only cost a dollar or two, why would you bother? So I did the right thing, and confessed: "I haven't paid yet." And the dumbfounded waiter replied: "Oh, what you ordered then?"

I had the same trouble convincing the waitstaff to take my money later that afternoon at the Highlands Cafe in the swish Saigon Center, and at some of the bars in Pham Ngu Lao district. The strange thing about Vietnam is that for such a poor country, they have such lousy skills in collecting (and enforcing) payment. It is like they don't even care about money. That could be because it is (at least nominally) a communist country, so employed staff have no real grasp of service in a capitalist style venture like a restaurant or bar...
39 Cafe Saigon (A Symbol of Changing Vietnam)
ON THE WAY BACK TO MY HOTEL IN HO CHI MINH CITY TONIGHT, I ENJOYED A SECOND DINNER AT A CLASSY ESTABLISHMENT CALLED 39 CAFE. With a balcony overlooking the boulevard and Vinh Quang Cinema... I ordered abalone covered beef here which tasted okay (not too bad, but nothing special.) However, according to a story I found in the Christian Science Monitor, this restaurant serves as a symbol of the changing face of socialist Vietnam. Back in the 1960s during the Vietnam War, the address 39 Le Loi St was home to correspondents from the Christian Science Monitor newspaper. Revisiting the address in 2005, one of the correspondents wrote: "Now, more than 30 years later, I can tell the previous occupants of the apartment that the address lives on in high style. As you peer up from Le Loi, still swarming with motorscooters, you will note a large sign, "39 Cafe." The gaping door to the garage is still there, but at the bottom of the remodeled stairway is a modern elevator that carries you two floors up to a restaurant and cafe complex with real pretensions of elegance.

"The cafe fills not only our old apartment but two or three others, and a sweeping balcony provides a view over much of the center of the city. Monitor correspondents will be relieved to know, however, that the noises from below, the fumes from the rushing vehicles, the popping and puffing of motorscooters, remain much the same.

"Trung Nguyen's wildfire growth in Vietnam, the world's second-largest coffee exporter, is testament to Vu's vision, not to mention the notable absence of a certain coffee giant.

"Although Seattle-based Starbucks has made sizable headway in the region, in Japan, Thailand and China, among others, it still has no presence in Vietnam. High tariffs on imported roasted coffee ensured the dominance of the local coffee industry and an opportunity for an enterprising medical student..."

A Pirate in Japan writes: "When I grow up I want to have a room in my house, like Indiana Jones has, except instead of rare artifacts I want it to hold exotic hard liqueurs from around the world, I also want to procure at least one of them by answering a riddle or logic game. I am also a fan of trying things that are taboo in America, if for no other reason then to offend people who get offended easily, see 90% of Americans, for this reason I was also very excited to try dog meat. On New Years day I was going to go to the countryside, but we ended up having to get Georgefs bike fixed. We went to the mechanicfs house and he didnft want to fix the bike, he wanted to celebrate the new year so he treated us to something called hot pot at a restaurant owned by his cousin. Hot pot is basically a big bowl of boiling water that you put different meats and noodles in and share with a big group like fondue. I donft really like it because some weird stuff comes with it, like pig intestine and shrimp with the head still on, but whatever. We sat on neat little tables on the floor like you see in the movies. When we came in there were three huge bottles of home made liquor; a rice wine, a very scary one with fish in it (maybe some other time) and one made from apples. While we were waiting for the food the guy ordered a small bottle of the apple one. It was amazing, about 20%, but not girly tasting and meant for mixing like apple pucker, and it went down very easy. This mechanic and I finished off two bottles and Georgefs wife had to ride my motorbike home. I am currently try to figure out a way to smuggle some back to the states A few days ago I was at a dinner party hosted by one of my fellow teachers. It was at an Indian restaurant and the people I met their were talking to me about the difference between Indian cuisine and Vietnamese cusine and then asked me a question I have gotten from many of my classes ghave you ever had dog meat?h I responded I hadnft but really wanted to try it. The guy, named Thang said gOK you and me will go eat dog soon.h Awesome. So yesterday I get a call from Thang saying he wanted to take me out on Sunday to get a traditional meal with dog meat. OK. So he picked me up and we ended up going out to some suburb of Hanoi to the house of a guy he knew who was a surgeon at the military hospital, he actually fought for North Vietnam in the last year of the war and grew up in Hanoi during the war, but that is a tale for another time. Anyway we went there and had a great meal of noodles, dog meat prepared three ways, oranges, Me Sow Baw (my favorite Vietnamese dish), french bread, and Hennessy to drink. My critique on dog meat is as follows. The boiled stuff was gross and chewy, you also ghadh to dip it in sauce that was basically liquefied shrimp. The soup had bones in it and was a bit too gamey especially since we were eating Lassie here, but the fried stuff was AMAZING. It tasted just like BBQ pork back home! Duke (my sisterfs dog) you better watch yourself pal. Just kidding Nicolec or am I? HO CHI MINH CITY IS WITHOUT DOUBT ONE OF THE CRAZIEST CITIES IN THE WORLD, AND CAN BE TOUGH GOING EVEN FOR THE MOST EXPERIENCED TRAVELLER. The first time I came here back in mid 1995 I was so culture shocked that I hid like a mouse in my hotel room for the first night, too scared to venture outside. Mind you that happened on my first night in India as well, which shows that Vietnam is at the Indian level when it comes to a guaranteed culture shock and the general insanity of the streets. This is one insane place, but it is its good points, and food is one of them. Having been to Mumbai, I wouldn't necessarily call Ho Chi Minh City the best city in the world for food, but it is far from being the worst. There are plenty of good places to dine, and the prices are very competitive. Another point is that Vietnamese food is extremely exotic, by our modern/postmodern western standards -- you can find restaurants serving nothing but dog meat in Ho Chi Minh City (and these restaurants are often fully packed with diners!) On previous trips through Vietnam I have been offered snake, wild boar, rat jerky, and opium. Yes, this is a wild country and a wild city. I can't wait until my next trip there!

For the beginner: what is Vietnamese food, basically, and what kind of food can I expect to find in Vietnam's brash southern urban center? Like all South-East Asian food, rice is pivotal in many Ho Chi Minh City meals, as are noodles, soup and prawns. If you wish to try out some of the local specialities, these include cha which is pork paste boiled over hot coals, ech tam bot ran which is frog meat in batter fried in oil, and bo bay mon which are sugar-beef dishes.

Anyway, here is a list of some of the places to eat in Saigon, covering all kinds of cuisine, from rice and noodles to dog soup and Japanese hamburgers, and all price levels, from the street stall to the luxury hotel restaurant, from all over the city.

For a more detailed guide to the pho restaurants and general pho scene of Vietnam, click here.
b a + b a
BA BA IS THE VIETNAMESE NAME FOR SOFT-SHELLED TURTLE, THE TYPE OF WHICH MIGHT LIVE AT THE BOTTOM OF ONE OF THIS CITY'S RIVERS AND LAKES. Since even people in the reluctant West go for sping rolls, banh trang is eternally popular. The basic idea is to wrap banh trang around some meat and a suprisingly wide variety of vegetables and leaves. Many of these leaves are not ordinary agricultural specimens at all, but wild weeds plucked by old women on the banks of polluted rivers! Thus there is a health factor to consider eating the more exotic kind of banh trang, but all up I consider the health benefits to outweigh the risks -- some of those strange tropical weeds must contain some potent vitamin combinations and rare nutrients!
I read a story recently on noodlepie concerning one particular elaboration of bang trang which goes in for liberal leafage: this particular critter is called banh trang phoi suong. In the article, noodlepie scoffs his fill at a Saigon restaurant called Quan Co Tam - Banh Canh Trang Bang (at 188 Nguyen Van Thu Street, Phuong Da Kao, District 1.) It is a restaurant which is big on leaves (one item definitely neglected in our modern food lives.) As noodlepie wrote: "This is one of my favourite dishes in Vietnam, Banh trang phoi suong (literally means "rice pancake exposed in the dew (at night)". It's so simple it's rude. Centre stage we have thin slices of boiled pork, nothing fancy going on, just the pork. The surrounding action has the pork trapped, no escape from a fate worth scoffing. Rustic style rice paper, a sweet nuoc mam (fish sauce), pickled carrots and onion-leek type thing, raw beansprouts and lengthways sliced cucumber. And then comes that mighty herb trough. Trang bang, by the way, is the name of the province the dish comes from.
"That's a gargantuan set of greens in anyone's book. It's like no other platter on the Vietnamese table. A plate of this stuff will bring the David Attenborough out of anyone. Dig, delve and forage-mungussly good. Pluck a few leaves of what you fancy, sling them in a rice paper along with your meat, and whatever else you can squeeze in, roll, dip and nibble, munch or hog. I hog, you're probably a bit more polite..."
For the full story, click here.
c h a + c a
THIS IS WHAT IS WRITTEN IN THE CUISINE OF VIET NAM, WHICH I PICKED UP IN HO CHI MINH CITY'S AIRPORT ONCE: "Chả Ca, essentially fish served on a brazier, was first made by the Doan family, who lived in the house at number 14 Hang Son in Ha Noi's Old Quarter early in the 20th century. Originally, the family prepared the dish as part of their own meals and since it soon became one of their favorites, it occurred to them that others might like it too. Accordingly, they opened a small restaurant that served this dish exclusively, thus beginning a long Ha Noi culinary tradition.
"One can now eat chả ca almost anywhere in the city, but the best restaurants are still in the Old Quarter. The most famous is Chả Ca La Vọng, located, appropriately, in Chả Ca Street, number 14. (Eds. note: it is telling that every street in Hanoi's Old Quarter has a distinct function, signified by its name -- this street is dedicated to Chả Ca, to fish cooked on a brazier.) When the restaurant opened 100 years ago, Hanoians came to love the food so much they stopped using the original name of the street -- Hang Son, or Paint Street -- and began calling it Chả Ca Street. After a while, the city government changed the name in accordance with common usage.
"The Chả Ca La Vọng restaurant is known by its symbol of an old man with a basket on his bent back, in his hands a fishing rod whose hook attaches to a small fish, and on his head a conical hat. People call him La Vọng or Lu Wang in Chinese, a famous figure of the Zhou Dynasty (1st millennium BC.) Legend has it that Lu Wang only pretended to go fishing -- his fishing rod had no hook, or if it had, the hook was straight. It is said that he was meditating on events and, like a Confucian scholar, waiting for the proper time to serve his country."
Noodlepie picks up the story thus: "Cha Ca originated in Hanoi at the Doan family restaurant over a century ago. The street was later renamed simply Cha Ca Street, a legend was born and the hordes still stampede up the narrow, creaking stairs of number 14 to this day. It's a very tired looking restaurant and it has something of a monopoly on the dish (The name Cha Ca La Vong was copyrighted in 1989), but the lazy, slapdash service and average grub put some folk off a return visit. However, in late 2003 Cha Ca La Vong opened its first Saigon branch at 31 Nguyen Thi Dieu Street in District 3 number 3 Ho Xuan Huong Street, Ward 6, District 3 (tel: +84 (8) 830 5674). The food is better, the service comes without the northern snarl and the indoor/outdoor restaurant is still sparse like the Hanoi original, but far cleaner, more modern and comfortable..."
Some of the world's finest bamboo comes from Vietnam. Much of it gets turned into chopsticks to feed the millions of people who live in this land. Bamboo Chopsticks is also the name of this mid-level restaurant in the 10th District of Ho Chi Minh City (Saigon), whose menus are packed with Vietnamese dishes and goodies. It it is worth checking out.
Bun Bo Thanh Noi Hue: 47A Tran Cao Van, near Ben Thanh market. Phone: 829 9473.
As the legendary and well versed Eating Asia wrote: "There's a certain little place down a small alley near Ben Thanh market that serves a mean bowl of tasty bun cua (rice noodles and crab "paste" -- or crab ball -- soup). But I'm not going to toot it's horn here. Call me fussy, but if I grace a table at the same eatery every single Saturday and sometimes Sunday too, for 8 weeks straight, yet still can't elicit so much as a stone-faced nod, or even timely delivery of a packaged wet nap to wipe my grease-smeared mouth, then that's it -- I'm outta there!! Deliciousness is a top consideration, of course ... but a smidge of welcome doesn't hurt.
"The gals waiting table at Bo Thanh Noi Hue deliver in the friendliness department, it's centrally located (a short stroll from Saigon's "Notre Dame" cathedral), and the bun cua is at least as tasty -- if not more so -- than the version served at that "other" place.
"Some of the menu items worth sampling are the cha gio cua (crispy, admirably grease-free spring rolls packed with crab meat), served with the same dainty basket of greens 'n herbs, rice vermicelli, and a dipping sauce of fish sauce, sugar, and daikon radish)..."
Bun Nuoc Leo Soc Trang: 11 Phung Khac Khoan, District 1. Phone: 825 8525.
As my friend J. points out: "Last time, I forgot to tell you about the special food in Tra Vinh. Indeed, there're a lot of delicious food but I like "Bun nuoc leo"(Vermicelli with Savory Broth) best. It can be said that Tra Vinh province and Soc Trang province are two "Capitals" of "Bun nuoc leo". "Bun nuoc leo" is a kind of food which is charming with the Khmer's character. As I know, there're some small restaurants in Ho Chi Minh City where you can eat this kind of Vermicelli. But I've never ever tried it in Ho Chi Minh City before, I just eat it when I get back to Tra Vinh Town :). I think you should eat "Bun nuoc leo" once...it's really delicious!
Cati Club: 46-50 Dong Khoi Street, Dist. 1. Phone: 823 8309.

Luxury Vietnamese cuisine.
Cay Xoai: 15A Thi Sach Street, Dist. 1. Phone: 822 6227.
Featuring seafood and mid-range priced Vietnamese cuisine.
Com Nieu Sai Gon: 6C Tu Xuong Street, Dist. 3. Phone: 820 3188.
Mid-range Vietnamese restaurant. Along with many places listed on this website, this restaurant is bound to serve pho, which is effectively Vietnam's national dish, and is in effect a fragrant bowl of broth with beef or chicken, noodles, spring onions, bean shoots and a garnish of fresh herbs. Traditionally eaten at breakfast, it can be enjoyed at any time of the day...
For the full Com Nieu Sai Gon restaurant review, click here.
Hoa Binh Restaurant: 145 Xo Viet Nghe Tinh Street, Binh Thanh Dist. Phone: 899 6151.
Mid-range level cuisine, Vietnamese food.
Golden Eyes: 65 Cao Thang Street, Dist. 3. Phone: 834 2808.
Mid-range Vietnamese restaurant.
Empress Hotel Restaurant: 131 Bui Thi Xuan Street, Dist. 1. Phone: 832 2888.
Newly-built in 1996, the Empress is a small, modest hotel whose hallmark is service. While not luxurious, it boasts some upscale touches like terra cotta tile and marble. Rooms are cozy but well laid out. The Empress Hotel is conveniently located in district 1, Ho Chi Minh City.
With 40 rooms the Empress Hotel is a charming, small hotel located just 5 minutes by taxi to the downtown. Deluxe rooms are cozy but well laid out, with two twin or one queen size bed. More spacious are the suites, with a small living room and seperate bedroom. The Empress also boast a small fitness center, business center, coffee shop, bar and restaurant, every bit as cozy as the guest rooms.
Lau Mam 140: 140/13 Tran Huy Lieu, F15, Phu Nhuan District. (Off Nam Khy Khoi Nghia Street, halyway between the airport and District 1.)
Specializes in bun mam (fermented fish noodle soup). It's a Vietnamese restaurant standard, and this version served well as a diversion, but we were there for the bun. It arrived, in over-sized soup bowls -- an odoriferous combination of thin rice noodles and a broth of dried snake head fish thick enough with fish shreds to qualify as gravy. Floating among the noodles were cooked snails, squid pieces, and prawns, as well as the occasional chunk of eggplant. Lau Mam 140 lightly blanches the herbs and vegetables accompanying their bun mam -- a nice touch. On our plate we found bitter rau om, or paddy herb, bean sprouts, purple lotus stem, and chunks of a light green, spongy stalk (resembling celery but larger and rib-less) that I've yet to identify. Lime slices and fresh chilies add a bit of zing..."
Ngoc Suong: 19C Le Quy Don St.
Great seafood. This is where the international stars come to get their Viet fix.
Average dishes come to around US$12 or so. The fish and shellfish are particularly fresh at this popular restaurant. The majority of the dishes are Vietnamese specialties. Shrimp may come raw, steamed with beer or in coconut juice (US$14 a kilogram). There is also a smattering of Western preparations -- lobster Thermidor (US$50 a kilogram) and Coquilles St. Jacques (French style baked scallops, US$4).
Ngu Binh Restaurant: 82 CX. Nguyen Van Troi Street, Phu Nhuan Dist. Phone: 844 7230.
A luxury restaurant serving Vietnamese cuisine.
Phu Xuan Restaurant: 128 Dinh Tien Hoang Street, Dist. 1. Phone: 820 0329.
Prices in the mid-range. food on the table is Vietnamese.
Mandarine: 11A Ngo Van Nam Street, Dist. 1. Phone: 822 9783.
One of Saigon's luxury restaurants serving quality Chinese food.
Ra Khoi Restaurant: 5 Me Linh Square, Dist. 1. Phone: 821 6096.
Mid-range restaurant focussing on Vietnamese dishes.
Tan Nam Restaurant: 60-62 Dong Du Street, Dist. 1. Phone: 829 8634.
Mid-range Vietnamese dishes.
The Temple Club: 29-31 Ton That Thiep Street, Dist. 1. Phone: 829 9244.
Mid-range Vietnamese food.
Thanh Tam Restaurant: 24 Truong Dinh Street, Dist. 3. Phone: 829 1610.
Mid-range Vietnamese food.
Van Ho Restaurant: 72 Nguyen Thi Minh Khai Street, Dist. 3. Phone: 825 8842.
Mid-range Vietnamese cuisine.
Tri Ky Restaurant: 478 Nguyen Kim Street, Phu Nhuan Dist. Phone: 844 2299.
Mid-range Vietnamese cuisine.
VY Restaurant: 105 Yersin Street, Dist. 1. Phone: 821 4761.
Luxury restaurant serving a dominantly Vietnamese selection of dishes.
Hideaway Cafe: 41/1 Pham Ngoc Thach Street, Dist. 3. Phone: (08) 822 4222
This somewhat out of the way place is managed by a Vietnamese woman who grew up in Brooklyn, New York, Christine Van. Her experience with both cultures (ie both East and West) has created an awareness of the expectations brought to the table by both Vietnamese and foreign clients.
As the good folks at Vietnam Tourism Info write: "The first thing that strikes one about Hideaway Cafe is that the name fits. Nestled down a small laneway off Pham Ngoc Thach Street in Ho Chi Minh City, Hideaway is tricky to find. And sitting in a generous armchair in the light-filled, Moroccan-inspired dining room, really does feel like being in a haven; far from the noise and havoc of the streets out­side. Very appealing. I predict long after­noons over cups of coffee or freshly squeezed juices, maybe even a deca­dent cake or two; the owners installing WiFi in the building means I could work on my laptop here too!" H20 Restaurant: 216 Pasteur street, Dist. 3. Phone: 08/824 3261.
The menu in this place comes complete with a nutrition guide and a calorie count with every meal -- an idea they should start employing in American restaurants, given the huge weight disparity between the United States of America and the Socialist Republic of Vietnam. This establishment in District 3 is being touted as Ho Chi Minh City's first true health food restaurant, and the emphasis in on vitamins and low calories. As Anh Thu reported: "If you're a bit overweight, you may be interested in taking a close look at the menu's detailed information on each dish?fs calorie count and vitamin content.
"'I like Australian beefsteak with chips, but I had to say no when I discovered the dish's calorie count was 560," said Tran Thanh Nguyen, a recent guest at the restaurant.
"Nguyen chose a rice soup called pineapple leaf and crab rice soup because 'the charming waitress advised me to buy the dish, and with only 280 calories, it's suitable for my diet.'
"Cooked with pineapple leaves, the sweet-smelling soup costs VND12,000 (less than US$1).
"Nguyen says the dish made her feel as if she had 'a sweet sensation in the chest,' a good choice for summer's hot temperatures.
"For those in need of a more nourishing dish, the ginseng crab rice noodle soup is delicious and at VND25,000 has only 360 calories.
"'Using traditional medicinal herbs, including ginseng, dried dates, ginger and garlic, we provide customers with meals that are nutritious and have different treatment uses,' waitress Hoang Anh said.
"Opened since 1996, H2O was named after its owner Viet Hai. His given name, Hai, means sea, denoting water, of course."
f r i e n d l y + p h o

YES, HO CHI MINH CITY IS ONE OF THE BEST PLACES IN THE WORLD TO LOOK FOR WHAT I LIKE TO CALL EXOTIC MEATS -- I AM TALKING OF COURSE ABOUT SUCH SUCCULENT FLESHTYPES AS DOG, CAT, RAT OR BAT. All of these animals are eaten in Vietnam and have their fans among all strata of society. Now I know a lot of folks out there find the consumption of exotic meats strange and obscene. Some people in the West (and also some people in the East) are passionately opposed to the eating of some animals, particularly dogs and cats. I don't want to get into any fights about this issue, it's not worth the aggravation. I just think that travelling should be about opening your mind, and if you want your mind opened, Ho Chi Minh City will split open wider and faster than any other city on Earth. It is good to challenge yourself and exercise your morals a little sometimes. You should take a leaf out of the book of this guy, fellow Aussie, who while travelling in Vietnam was game enough to try the local delicacies:

We visited Cholon, HCMC's bustling Chinese district, and after stopping at one of the many ornate pagodas and a lacquer ware factory, David decided to try a uniquely Vietnamese lunch at one of the area's dog meat restaurants (and if you're wondering, dog tastes somewhat like pork!)

On a more serious note, Ho Chi Minh City is also one of the world leaders in the cosumption of wildlife meat. The Economy and Environment Program for Southeast Asia (EEPSEA) wrote in 2003: "The total estimated volume of live and wildlife meat in and out of Vietnam is about 3,050 tonnes per year, of which about half was for domestic consumption. Trade in wildlife meat accounts for 80% of the total and this is concentrated in Ha Noi and Ho Chi Minh City. The total revenue and profit from illegal wildlife trade in Vietnam are estimated at USD 66.5 million and USD 21 million per year, respectively. In the study sites alone, the estimated total profit is eight times the expenditure on monitoring and enforcing. In the entire country, the estimated total profit is 31 times higher than such expenditures (USD 634,000 to USD 700,000); more than three times the total budget of Forest Protection Department staff (about USD 6.5 million), and four times the total fines collected (USD 5.5 million) per year. The estimated total revenue from illegal trade (USD 66.5 million) is 12 times the total revenue from legal wildlife trade (USD 5.2 million) per year. The study estimated that the average value of official confiscated live wildlife and wildlife meat from 1997 to 2002 accounted for only 3.1% of the total value of illegal wildlife trade per year.

"The main domestic sources of wildlife species in Vietnam are protected areas. The main international sources are Laos, Cambodia, and Myanmar. Both sources travel along Road 1A to Ha Noi, and Ho Chi Minh City markets. From Ha Noi, wildlife species travel out to China through Mong Cai-Quang Ninh, and Lang Son...

"The most popular species are snake, turtle, bear, bird, pangolins, and monitor lizard."

Wildlife or partial wildlife meat restaurants in Ho Chi Minh City are mostly concentrated on Phan Viet Chanh Street. The estimated wildlife meat consumed in the city is about 465 kg valued at VND 116 million (USD 7,750) per day. The favored wildlife meats are those of forest deer, forest pig, pangolin, musk deer, palm civet, monitor lizard and muntjak. These are sourced from Laos, Plateau, Cambodia, the Central subsite and the Mekong River Delta. Although Ho Chi Minh City has 37% of the total number of restaurants in the South subsite, the total revenue and profit is about 79%. This is because of the larger scale and higher price in the area.

If you are game (no pun intended!), then here are some of the strange meats you can eat in Ho Chi Minh City, how to get there, and some of the alleged health benefits that these dishes provide:

Luong Son Restaurant: 31 Ly Tu Trong Street.
Said to be a lively and popular place, especially renowned for its barbeques. As well as some more delicious beef barbecue dishes such as Bo Tung Xeo, the restaurant also does a little walk on the exotic meats side. Inside the restaurant are tanks full of live scorpions and snakes.

There is more to the exotic meat market scene in Ho Chi Minh City than wildlife meat. Farmed exotic meat --particularly frog meat -- is really taking off. The interest in frog production in Vietnam is growing by leaps and bounds (once again pardon the pun -- and this time the pun is not mine -- it comes from SUSPER). Frog is a popular food in the country, where it is generally eaten in the form of frog legs and frog soup. It is a healthy meat that is low in cholesterol. As consumer worries over bird flu continue, the demand for frog is expected to rise here and abroad.

Thai frog is a special type of frog introduced from Thailand that is easy-to-grow with minimal costs. The large, brown, bumpy-skinned frog has quickly emerged as an attractive enterprise for farmers.

BLOGGERS CHOICE:

Professional food photographer and exotic meats connoisseur Owen Franken sounds like a man I would love to have by my side on a southeast Asian dining challenge -- on his blog he recounts munching spider and scorpion noodles on a Bangkok street with his 15-month-old daughter (and his daughter allegedly took a liking to the spider and its shrimplike flavor, according to Franken!) One month later both father and daughter dined on roast wild cat in neighbouring Burma! "We think it was lynx," wrote Franken with complete Politically Uncorrect aplomb. "It was too small for snow leopard." And out of habitat, because there are not too many snow leopards in tropical Burma!
When in Vietnam, Franken consumed dog sausage in Hanoi... and had this to say about a mystery exotic meats restaurant in Ho Chi Minh City: "There is also an amazing menagerie restaurant of wild animals outside of Ho Chi Minh City. Cages rather than menus, kind of like going to the zoo for dinner. I remember keeping it simple and having cobra, rather than fruit bat. A large fruit bat, I discovered, has a very cute face, hard to imagine eating it. On the other hand, I love rabbit. I make a mean rabbit with olives, although the best was made for my birthday dinner by the wife of a Tuscan ceramic artist..."
s w e e t + s t u f f

SOME OF THE SWEETEST SELECTIONS IN SAIGON/HO CHI MINH CITY, GOOD PLACES FOR DESERT AND JUICE AND WHATNOT:

Kem Bach Dang: 26-28, Le Loi Street (opp. Russian Market), Dist. 1. Phone: 829 2707.
I am only a beginner at Vietnamese but my guess is that "Kem" in this name means "cream" or "ice cream". I could be wrong though so I don't want to bet a testicle on it! Now this is a good place to go uf you like ice cream and sweet sh=t, but be warned, the prices are not cheap -- arasnosliw in one of his/her articles claimed?@some items on the menu creep towards US$10, which is a ripoff in Vietnam. Nonetheless, I have never been a sweets lover. Arasnosliw is, and he/she said in his/her article: " by arasnosliwThis is some of the best ice cream in Saigon. There are lots of exotic flavors, making this place an ice cream lover's paradise. Toppings consist of many fresh fruits. This is a long withstanding shop within proximity to Ben Thanh Market. It is always swarming with people, so it is hard to find a table. Service is quick, the staff is efficient.
Au Lac Cafe: 57 Ly Thai To St. Phone: 84-4-825-7807.
Writes Vietnam Tonight: "If a bowl of pho, a rice noodle soup, at a street stall isn't your idea of a perfect breakfast, then start your day at Au Lac Cafe. The cozy French eatery in the courtyard of a large French villa is known for the best coffee in town and is a favorite with both locals and long-term foreign residents. If it is too hot or rainy, walk to Paris Deli (6 Phan Chu Trinh St., 84-4-934-5269), an indoor cafe in another colonial villa that also serves French breakfast favorites such as croissants and baguettes..."

"Coconut ice-cream comes in a young coconut shell topped with strawberries, dragonfruit, raisins and longan. If you are not that adventurous, there is plain and simple choices available."
v e g e t a r i a n + c u i s i n e s

DESPITE BEING A BUDDHIST COUNTRY THERE ISN'T A LOT OF VEGETARIAN FOOD IN VIETNAM -- BUT THERE IS SOME, AND I WANT TO INFORM ABOUT THE BEST PLACES TO GO. Here is the latest selection:

Com Chay Nang Tam: 79 bis Dien Bien Phu, District 1.
One of the new vegetarian eateries in the city, and becoming popular, especially among foreigners. It boasts some classic pieces of vegetarian kitsch on the menu -- fake chicken and beef made from soya, for example. Nonetheless, the food is said to be excellent -- and costing under 40,000 Dong a dish. Grover Reidi wrote in Vietnam News: "The food, like the restaurant, is simple and well-presented... The sweetcorn cakes and snowballs stole the show. The sweet-corn cakes have a creamy flavour and smooth texture, well complimented by the lightly breaded and fried crust. Honestly, when you say sweetcorn I can only think of babyfood puree. But this was definitely adult food, solid but viscous, just sweet enough, with a lasting aftertaste."

Giac Duc: 492 Nguyen Dinh Chau, Dist. 3.
Chau from America says this place has the best vegetarian food in town.
---