infinity pools for foreign tourists, and other luxuries. There is even a skyscraper shaped like a robot, somewhere around Sukhumvit Road in the Silom (สีลม) business district. Much as I love futuristic towers, however, the Old City on the east bank of the Chao Phraya is a more charming location to stay. The streets and sois (alleys) might be sometimes dark and dingy, jammed with cars and idling tuk-tuks, but this district has a sense of place. The view of the Grand Palace from Sanam Luang is one of the most sublime in the world. The Old City is also home to Khao San Road, the legendary backpacker quarter with its endless guesthouses, bars and tour agencies.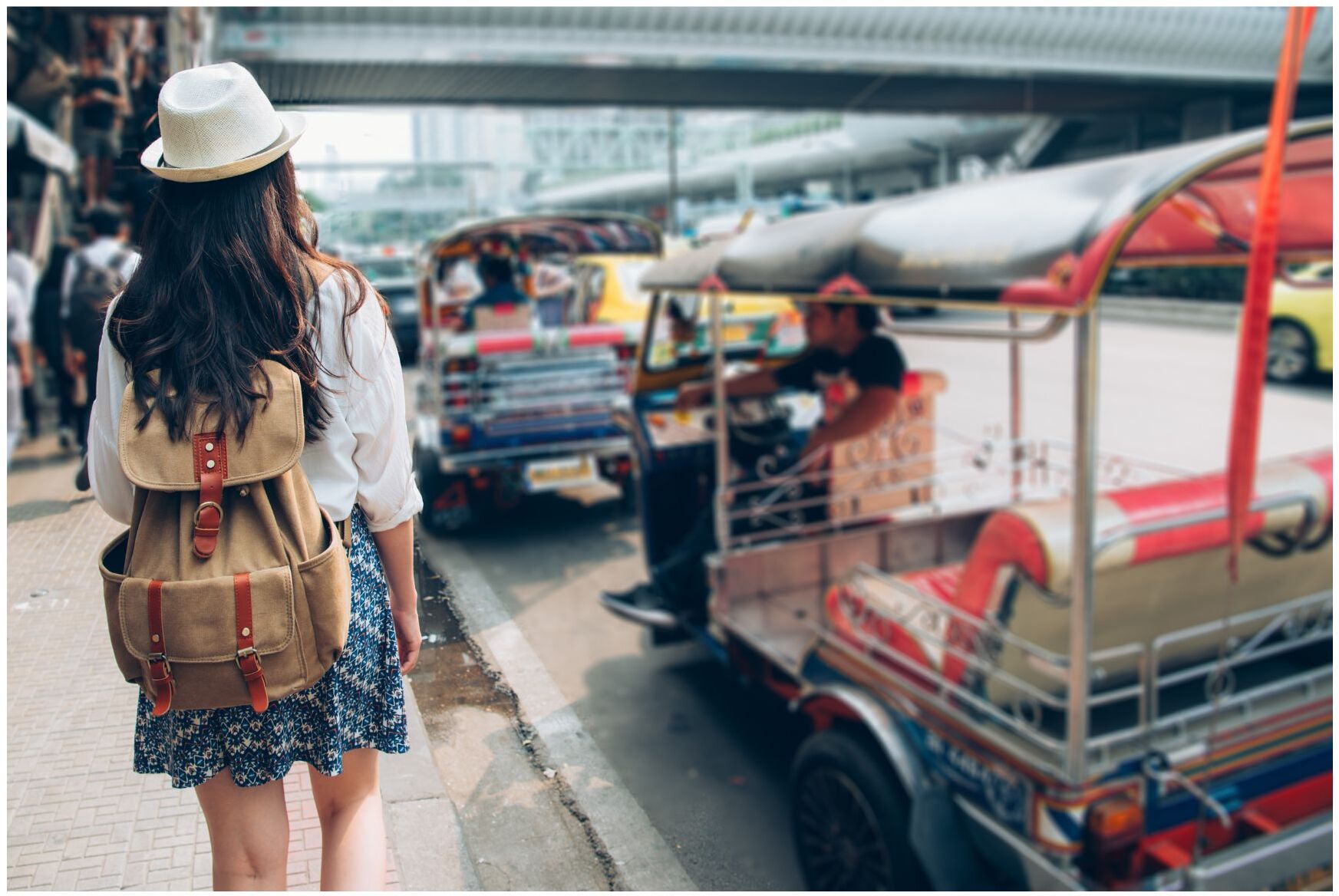 It is interesting to note that all the streets here run perpendicular to the river, with occasional khlongs heading in the same direction. Perpendicular to the street, the overpasses have a concrete Japanese appearance. Tuk-tuks are everywhere, although I don't trust their drivers. Baan Krua: Nice canals, Muslim community. Close to Jim Thompson House.To the north of the city, on the new Red Line, is Rangsit. Some come from the shopping, which is legendary.
What's a Wat?
WAT PHO is one of the city's foremost attractions. There are numerous smaller wats studded across this site, with a few major wats in the center. To my mind they all look like Buddhas in a meditating pose, rising from base materiality to the nimble spirituality of their spires.
The Grand Palace
Stickman says: "Thai bargirls often see relationships with Western men as a way to benefit themselves and their family financially.

"In a country where women are not always afforded the same opportunities as men, some women choose to enter the world's oldest profession in an effort to make money to help their family.

"These women attempt to secure their future - and that may mean lining up as many options (read: Western men) as they can, failing to disclose other relationships they may already be involved in or be less honest about their intentions with the man they're with. They may go on to choose one man who they feel can provide best for them, or they may simply try and make as much money as they can. Many of the women working in the bars already have a Thai boyfriend or husband. They may say that they do not like Thai men but that is often just a ruse to make Western men more comfortable with them.

.

Stickman is probably right, but for the time's being, I want to get back to Bangkok, and see what I can make happen. It doesn't matter if it doesn't work out, because this is an experiment, a learning curve. A man far further advanced on the Asian learning curve than myself, Global Nampa, cautions: "I just got informed about this video from Isaanstyle. This is a good example and warning for innocent first-timers. Thai online girls are professionals in manipulating guys, especially the good-hearted ones like this 23-year-old dude Dino seemed to be one. I understand both sides, of course Dino was hoping for love and invested a lot into her wishes. On the other hand R. was never forcing him to do all these things and was taking advantage of his foolishness. Among Thai girls, especially also among non bar-girls it is quite a sport to trick newbies to make some additional money. Girls I spoke with from Chulalongkorn University often have several online boy-friends from abroad who are sending in cash to support their lifestyle. I once drove with a female Thai friend to RCA in her brand-new Mercedes SLK she scammed out of a young foreign dude. The girls get admired for their trickiness among friends actually. ...."

Nick Gatsby wrote on Expat Rockstar Magazine: "Thai women are renowned the world over for their beauty, grace, femininity, and sexuality. They have that certain something that makes them alluring to men and their diminutive stature makes them doll like, while at the same time, womanly.

"If you are interested in meeting regular Thai women though, where and how do you go about it? When I say regular Thai women, I am referring to those who have a profession outside of the tourist entertainment industry. This means office worker, nurse, grocery clerk, doctor, lawyer, etc.

"There is a degree of difficulty in getting a 'nice' Thai woman to go out with you. For most Thai women, dating a foreigner comes attached with the stigma of other Thais believing your date is a prostitute. This alone is enough to put some women off the task.

"Culture also dictates their actions and if you are successful in getting them to go with you, at first, you may end taking them out, along with one or more of their friends. To play your cards right, abstain from physical contact and any kind or sexual talk - at least until the signs are all there. Refrain from touching her; do not attempt to hold her hand, put your arm around her, or kiss her. If she likes you, she will almost certainly touch you - nonetheless, do not touch her. Thais are not much for public affection and your restraint will likely go a long way..."

I even got approached when I looked lost standing on the side of a canal just down from the Democracy Monument, me all covered with sweat. Now Maniac High has to literally handcuff the schoolgirls in Tokyo to give him the time of day, but in humid Bangkok, you have to beat the Thai schoolgirls off with a stick. All in all, there are countless, endless possibilities in this city, or so it seems to me at the present. But I am indeed a novice when it comes to Thai girls!


Craigs List Personals: http://bangkok.craigslist.co.th/cgi-bin/personals.cgi?category=w4m.
There are women posting naked pictures of themselves in the hope of finding a boyfriend/husband. It's a bit full on for me, I would rather a bit of old fashioned romance. Ratchada Soi: http://ratchadasoi8.com/.
Website for the street which is one of Bangkok's popular party centers.

Thai Friendly: http://www.thaifriendly.com/.


This site is free, and sees plenty of action, and also (compared to a lot of other dating sites!) has a good ratio of men to women. One girl says: "I'm not a Butterfly lady and I NOT WANT TALK TO thai singles. if you want to talk to me. I want to make sure that you want to be friends maybe relationship." Another woman, Mountain135, describes herself as a hilltribe girl working in a guesthouse in Chiang Rai.
If you can read Thai, look at Zubzip.


THAI WOMEN FOR SRI LANKAN MEN
DO THAI WOMEN LIKE SRI LANKAN MEN? I wouldn't have thought so, but search statistics from Google Insights show that all of the people searching for Thai girls on the Internet, many of them come from Sri Lanka...

Sweet Singles: http://www.sweetsingles.com/join_thai.html.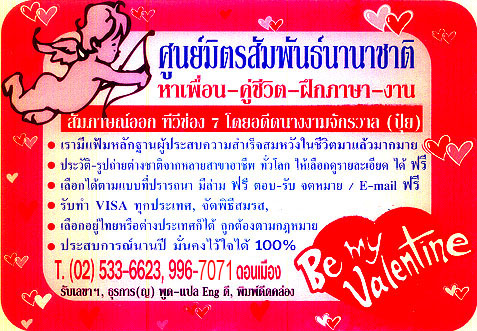 This site is actually devoted to that most adorable creature, the Thai woman -- and specifically for guys looking for Thai brides. The site is all in Thai, which might be a problem for the average Malaysian reader. - "
---
Nana Plaza

DISTRICTS
» Khao San Road
» Little India
» Patpong
---
» Bangkok Dining Guide
» Bangkok Hotels
» MBK Shopping Mall
---
EXCURSIONS
» Ko Kret
» Maeklong Railway Market
---
RECOMMENDED WEBSITES & WEBLOGS
» Stickboy
---